Quick Rack Bulk Storage Rack - 8 ft High Unit - Wire Mesh Decking
This product may be eligible for a reduced or free freight shipment depending on order size.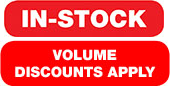 F.O.B. West Coast Warehouse

Frame color: Vista Green
Beam color: Orange

Starter Unit: 2 uprights, 4 beams and wire mesh decking.
Add-On Unit: 1 upright, 4 beams and wire mesh decking.

Heavy-duty storage for an affordable price. Bottom shelf is optional, allowing you to store items directly on the floor.
Easy assembly – no nuts or bolts.
Built-in safety clip.
Heavy-duty welded upright.
Priced as 2 shelf units complete with wire mesh decking. All units include our heavy duty 3" step beams. Extra shelves sold separately.

Volume discounts apply.