Quantum Wire Louvered Panels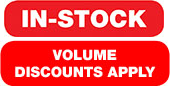 FOB: East Coast warehouse
Chrome Wire Louvered Panel offers a perfect mounting solution for all plastic hanging and new Wire Mesh Hanging Bins. Unlike a standard louvered panel where there can be the occasional concern of dust or dirt accumulation, Quantum's exclusive offering of wire panels, available in three sizes, completely resists any buildup of dust or dirt. Manufactured of heavy-duty chrome wire, Quantum's wire panels will offer years of dependable and heavy-duty service.
WLP-DMC Direct Mounting Clips are included but mounting screws are not as they differ depending on the type of surface the unit is being hung on.
WLP-OSC Offset Mounting Clips are available to purchase so the panel can be hung offset from the wall, creating a gap to aid in cleaning.