Polylewton Stack-N-Nest Containers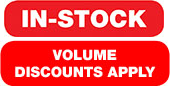 FOB: Midwest Warehouse
Colors: Red, Blue, Gray

Sold in Carton Quantities Only! Quantity Discounts Apply
$100.00 Minimum Order Required

These solid wall stack-n-nest containers are ideally designed for use in general manufacturing and distribution applications.
Resistant to the damaging effects of oil, most chemicals, solvents, water and steam

The Following Model Numbers Have Security Tie Holes: SN2012-6, SN2013-12, SN2117-12 and SN2420-13
If you need a large quantity of this product, call us at 1-800-338-1382 for additional bulk discounts!