Dutro Pillow Top Mattress Cart with Center Divider
Manufacturer: Dutro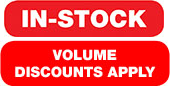 F.O.B. Utah or Oregon Warehouse
Makes moving mattresses fast and easy – even by yourself. Use the low handle to lift it into 2-wheel mode for going downstairs and navigating corners.
Capacity: 300 lbs.
Weight: 59.2 lbs.
Overall Dimensions: 45-1/8"Hx29"Wx55"L
If you need a large quantity of this product, call us at 1-800-338-1382 for additional bulk discounts!