Collapsible Wire Mesh Containers - 32" Width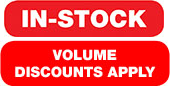 These containers provide ventilated storage, stack up to four high to save space and fold down for easy storage or return shipments. Easy access with half-drop gate.
Capacity Rating: 4,000 lbs.
Constructed with heavy-gauge wire and heavy duty stacking legs.
Galvanized finish. 2"x2" mesh.
Casters sold separately.
Additional sizes available upon request.
FOB: West Coast Warehouse.
If you need a large quantity of this product, call us at 1-800-338-1382 for additional bulk discounts!