Welded Bookcases - 13-1/2 Inch Deep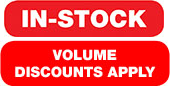 FOB: Midwest Warehouse
Model Numbers in Red are IN STOCK and available for QuickShip
QuickShip Colors: Black, Light Grey, Medium Gray, Champagne/Putty, and Sand
Extra strength is added in the welding process, providing years of heavy use. Bolts are completely eliminated for a clean and professional appearance. Ideal for home or office use.
Features:
Unit tops have no overhang and side-by-side arrangement of bookshelves will fit flush together.
Adjustable shelves.
Optional adjustable book stops support materials when shelves are partially filled.