Ultra Series Dividers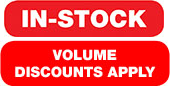 FOB - East Coast Warehouse
Available for Quick Ship.
Sold in cartons of six only.
Color: Black

Optional Bin Dividers for Quantum QUS standard, Clear-View, Recycled and Pink Ultra Stack and Hang Bins.

NOTE: Models starting with CRDUS are cross dividers. All other models fit lengthwise, as shown.

Slots for Optional Dividers
The following models (including corresponding Clear-View and Recycled) have three Divider Slots: QUS235, QUS245, QUS250, QUS255, QUS260, QUS270, QUS275MOB.

All other models have one Divider Slot.