Stromberg Mobile Shelf Carts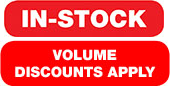 F.O.B. Oregon Warehouse

Affordable and reliable. A must-have for every workplace! Available with 3 or 4 shelves.
Shelves: 5/8" Particle Board
Unit Overall Height: 66"
Capacity: 600 lbs.
Shipped knocked down to save freight
Available in 5 sizes
If you need a large quantity of this product, call us at 1-800-338-1382 for additional bulk discounts!