Stromberg Drywall & Panel Truck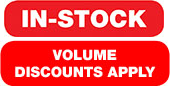 F.O.B. Oregon Warehouse
Designed to make moving drywall, sheetrock panel and cut panel easy – the platform position places the load-bearing burden on the truck, not the driver.
Deck: 40"Wx12-1/4"L
Capacity: 1,600 or 1,800 lbs.
USES:
Drywall Cart
Panel Cart
Lumber Yard Cart
Hardware Store Cart
Sheet Rock Cart
Home Improvement Cart
Choose the right wheel for your application:

Mold-On Rubber
Conditions: Concrete
Weights: Low, Standard, High and Extreme
Impact: Low, Medium and High

Polyurethane
Conditions: Concrete, Carpet, Gravel and Grass
Weights: Low
Impact: Low and Medium

Other Wheels Available:

Phenolic
Balloon Cushion
Flat Free
If you need a large quantity of this product, call us at 1-800-338-1382 for additional bulk discounts!