Plexton Fiberglass Nesting Boxes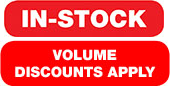 FOB: Midwest Warehouse
Stocked Colors: Red, Yellow, Green, Light Blue, Gray

Sold in Carton Quantities Only!
$100.00 Minimum Order Required

Plexton Fiberglass Nesting Boxes feature a thin-wall design that is durable, yet lightweight.
Fiberglass reinforced polyester
Stackable with lids (lids are sold separately)
Withstand extreme temperatures, ranging from -40° F to 300° F
If you need a large quantity of this product, call us at 1-800-338-1382 for additional bulk discounts!