PB104-4 Part Bin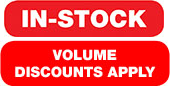 FOB: Midwest Warehouse
Sold in carton quantities only!
$100.00 Minimum Order Required
This bin is fully compatible with competitive part bins

Lewis Bins Akro-Mils Quantum
PB104-4 30224 QUS224

Used for secure storage of parts and products in industrial assembly operations, healthcare, stockroom, warehouse, foodservice and hardware merchandising applications.
30 lb load capacity on rack
Bins hang securely on rails, louvered panels, storage cabinet, bin carts and wall cabinets.
Hopper front with curved design enables convenient part retrieval
Wide stacking ridge enables stacking to save space
Fully compatible with competitive bins
Large front label slot allows for barcode or ID card
Finger grips, for better ergonomics, on selected sizes
If you need a large quantity of this product, call us at 1-800-338-1382 for additional bulk discounts!