NPL654B Ventilated Stack and Nest Containers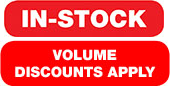 FOB: Midwest Warehouse
Stock Color: Green

Sold in Carton Quantities Only!
$175.00 Minimum Order Required

Containers nest when empty and stack when full for space savings and efficiency.

Benefits:
Ideal for parts washing applications
Rugged totes are resistant to the damaging effects of oil, most chemicals, solvents, water and steam for an extended service life in your facility.
Easy Stack-N-Nest design for maximum space utilization.

Features:
8.2" product clearance
Nest Ratio: 3:1
Textured container bottom
Containers are FDA approved for direct food contact.
Stacks when full and nests when empty
Ventilated design for easier cleaning, accurate temperature control and minimized cooling times.