MWR4-2419-9 Mobile Wire Shelving System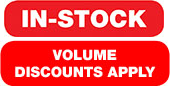 FOB: East Coast Warehouse
Totes Available in Gray or Blue
The MWR4-2419-9 Mobile Wire Shelving System is designed to last and is made as a durable long-standing storage solution for most applications. Load capacity is large and QuanTub totes make for heavy-duty nesting.
Features:
4 Hard-wire shelves
Outer dimensions: 24" x 60" x 69" (D" x W" x H")
Number of bins: (12) TUB2419-9 bins
Bin dimensions: 24-1/2" x 19" x 9-1/2" (L" x W" x H")
Shipping weight: 175 lbs.
Capacity: 600 lbs.
4 Plate casters
If you need a large quantity of this product, call us at 1-800-338-1382 for additional bulk discounts!