Fiberglass Reinforced Boxes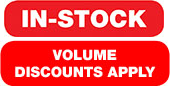 FOB: Midwest Warehouse
Sold in Carton Quantities Only!
$100.00 Minimum Order Required

Fiberglass Reinforced Boxes are not affected by water, oil, and most chemicals.
Fiberglass reinforced polyester
Structure is not compromised with temperature changes
If you need a large quantity of this product, call us at 1-800-338-1382 for additional bulk discounts!