Dutro Heavy Duty Service Carts - 3 Shelves
Manufacturer: Dutro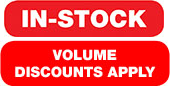 F.O.B. Utah or Oregon Warehouse
All welded construction with 14-gauge steel pans (2-3/4" deep)
Overall dimensions and weight for each model are listed in the table below
Capacity: 1,200 lbs.
Inverted shelves available for a smooth surface. Please specify "lip up" or "lip down" for shelf pans when ordering your cart.
If you need a large quantity of this product, call us at 1-800-338-1382 for additional bulk discounts!