Deluxe Unassembled Bookcases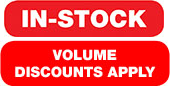 FOB Midwest Warehouse
Model Numbers in Red are IN STOCK and are available for QuickShip
QuickShip Colors: Black, LIght Grey, Medium Grey, Champagne/Putty, and Sand
Made in the USA

Tennsco offers versatile bookcases for shelving displays, books, or files. Each shelf is adjustable, but each bookcase is also expandable. Add-on units may be attached at end panels if desired.

Features:
Bookcases come standard with one (1) adjustable divider per shelf
Easy assembly
National Motor Freight classification: Class 70
Shipped unassembled
If you need a large quantity of this product, call us at 1-800-338-1382 for additional bulk discounts!