Cable Reel Racks - 120" High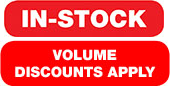 FOB: Oregon Warehouse

Stock Uprights Color: Vista Green
Stock Beam Color: Orange

Ideal for maintenance shops, contractors, electrical wholesalers, retailers, distributors.
Three beams per unit.
2,000 lbs. capacity per pair of axle brackets.
Heavy duty - adjustable
Starter and Add-On units in a wide selection of sizes.