Bin Dividers - Quantum Store-More 6" Shelf Bins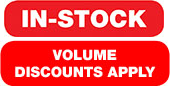 FOB - East Coast Warehouse
Sold in carton quantities only
Easily create up to nine compartments in your Store-More Bin with these handy Dividers.
Installs snugly and horizontally for clean organization.
Increase overall bin capacity - slot at the front of the bin closes off hopper.
Easy labeling via individual label slots for fast content I.D.
If you need a large quantity of this product, call us at 1-800-338-1382 for additional bulk discounts!