AkroBins - 30220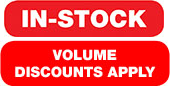 FOB: Midwest Warehouse
$350.00 Minimum Order Required
Stock Colors: Black, Blue, Green, Light Blue, Purple, Red, Stone, Yellow, Clear

Sold in carton quantities only!

Berry and Teal colors available as a custom order with minimum quantities.

Guaranteed not to break! AkroBins are the industry standard hanging and stacking plastic storage bin. They stack on top of each other, sit on shelves or hang on Akro-Mils racks, louvered panels, carts and rail hanging systems. AkroBins make it easy to control inventory, shorten assembly times and minimize parts handling.
Anti-slide stop prevents stacked bins from shifting forward.
Full-width hanger lip supports bin on hanging system.
Perfect for Kanban systems and 5S Lean initiatives.
Sturdy, one-piece construction is water, rust and corrosion proof and unaffected by weak acids and alkalis.
Curved-bottom hopper front makes it easy to retrieve small parts.
Reinforced side rib and honeycomb bottom design adds strength and prevents spreading when stacked.
Optional lid available to keep parts clean from dust and dirt.
Large front label area for easy coding and scanning.
Extra-wide stacking ledge provides stability, saves space and prevents spills.
Dividers available! Sold separately - see blue Options tab below.