5 Shelf Steel Shelf Carts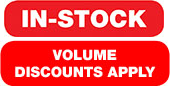 FOB: Oregon Warehouse

Store, sort, deliver and transport with one convenient shelf cart.
Sturdy, all-welded steel construction
5 shelves, 13" between shelves
Capacity: 1,000, 2,000 or 2,500 lbs.
Caster types: Polyurethane, Gray Rubber, Mold-On Rubber or Phenolic
Caster sizes: 1-1/4"x5" or 2"x6"
If you need a large quantity of this product, call us at 1-800-338-1382 for additional bulk discounts!