4 Inch Tall Akro-Mils Shelf Bins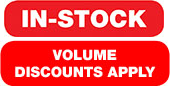 FOB: Midwest Warehouse
$350.00 Minimum Order Required
Sold in carton quantities only

Stock Colors: Red, Yellow, Blue, Green or White.

Long-lasting, industrial-grade storage for small parts. Constructed of waterproof polypropylene, they can be fully loaded without bulging or cracking. They're so strong, they'll outlast corrugated bins and pay for themselves in reduced replacement costs.
One-piece construction is unaffected by grease and oil.
Works with 12", 18" or 24" deep shelving, or vertical storage and retrieval units.
Allows easy access with wide hopper front.
Built-in rear hanglock allows bin to tilt out for complete access.
Molded-in label area identifies contents. Labels available.

NOTE: White colored bins require a minimum qty of 3,500 units.