32 x 40 Wire Mesh Containers with Casters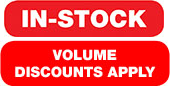 FOB: Oregon Warehouse
With 2 Rigid, 2 Swivel Casters
Galvanized finish wire mesh containers stack to save space in use or storage. Containers fold down for easy storage or return shipments.
Capacity Rating: 4,000 lbs.
Heavy gauge wire, stackable four high, fully loaded
Front view with half drop gate
Galvanized finish
Used by: Air Cargo Companies, Auto Shops, Auto Wreckers, Canneries, Construction Companies, Display Companies, Farm Stores, Farmers Markets, Factories, Foundries, Food Companies, Fish Processors, Furniture Manufacturers, Garden Centers, Garden Nurseries, Farmers, Importers, Lumber Yards, Meat Packers, Millwork Companies, Mining Companies, Moving Companies, Military Bases, Petroleum Companies, Produce Companies, Garment Factories, Sportswear Companies, Warehouses, Wineries.