3 Shelf Service Carts with Pneumatic Casters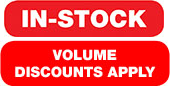 F.O.B. Oregon Warehouse
Stock Color: Gray

Reduce the noise from carts clattering across rough surfaces. Pneumatic tires provide a smooth, quiet ride and help protect items from jolts as they travel over uneven spots. Available in 2 sizes.
Pneumatic air-filled tires cushion impacts from irregular surfaces
Capacity: 1,000 or 1,200 lbs.
Dimensions: 35"Hx36"Wx24"D or 35"Hx48"Wx24"D
If you need a large quantity of this product, call us at 1-800-338-1382 for additional bulk discounts!